Helen Sewell in the Daily Express
Helen's presentation on 'The Astrology of Current Events' at the renowned Glastonbury Symposium generated several articles in the online version of the UK newspaper the Daily Express in August 2017. One of their reporters was present at the event and Helen's views on possible changes in the Royal Family and British life and the future of sexuality in the Age of Aquarius, among other topics, were – if somewhat over-sensationally – used as headlines! Click the links to read the articles.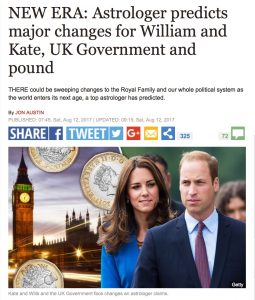 An Article About Helen Sewell
A good seven-page article about Helen was published in Sussex Living magazine in January 2015 and provides a useful insight into her work and how astrology works. The whole magazine can still be viewed online at this link and the article begins on page 39 – scroll through!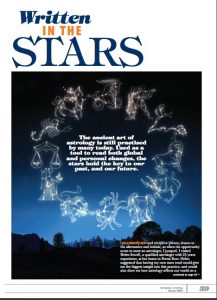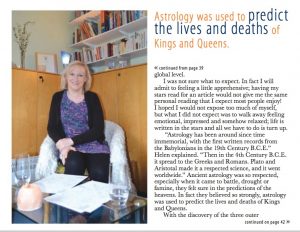 Helen Sewell Lecture: An Introduction to Astrology 
This presentation is a useful introductory guide to the 'sun signs' and the 'elements' which form the core of basic astrological principles, looking one by one at the attributes of each in a very accessible and informative way. [Please note there is a brief technical edit between Capricorn and Gemini.] The lecture was recorded at the Oddfellows society in Crowborough, East Sussex, UK, May 2017.
An Interview With Helen Sewell
This interview with presenter Valentine St Aubyn was broadcast on Sky 200 (Edge Media TV) in June 2012 as part of the 'On The Edge' series. Although we are several years on from the ancient prophecies being discussed (which stated that 2012 would be the beginning of a huge time of change, something many believe came true), the interview contains many interesting insights into astrology and much that is still relevant.
Helen Sewell Lecture:  The Astrology of Our Times
This presentation was recorded at the Open Mind conference in Denmark in 2013 and looks at world events and potential future developments from an astrological perspective, containing many interesting observations on the astrological characteristics of different countries.
Helen Sewell Lecture:  The Astrological Roadmap of Global Change
This presentation was recorded at The Alternative View conference at Heathrow, London, in 2009 and anticipates what might happen around and after 2012. Although we are now years on, the presentation still makes for fascinating viewing today and the general observations about astrology remain relevant . This lecture was broadcast many times on Sky 200's Edge Media TV (now defunct) in the run-up to 2012.